(Crítica) Jarhead
Jarhead
de Sam Mendes
(2006)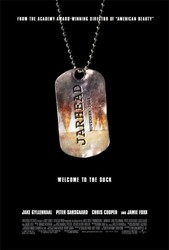 "For most problems the Marine is issued with a solution. If ill, go to sickbay. If wounded, call a Corpsman. If dead, report to graves registration. If losing his mind, however, no standard solution exists."
Jarhead
é a terceira incursão de Sam Mendes nas lides cinematográficas e apetece dizer que um só filme deste realizador tem mais valor do que algumas filmografias completas.
Desta feita somos levados até ao deserto e acompanhamos a experiência de um novo marine - Anthony Swofford de seu nome - desde o seu recrutamento até às missões na Arábia Saudita e no Kuwait. Realce-se que o marine em questão, interpretado no ecrã por Jake Gyllenhaal, é real e o filme é baseado no livro por ele editado em 2003 onde relata as suas experiências.
O trio de protagonistas tem uma qualidade interpretativa muito boa e, depois de ver Stealth, é um alívio ver Jamie Foxx com este desempenho. A banda sonora é interessante, com destaque para o uso que deram ao tema
Something in the Way
dos Nirvana que resultou em pleno. Acrescente-se que Jarhead tem algumas imagens de beleza singular, de resto todo o trabalho de fotografia é bastante bom. Resta dar um aviso de navegação: filme não aconselhável a pessoas facilmente impressionáveis.
Até aqui tudo muito bem mas Jarhead não é isento de falhas. A cenas em que a tensão se faz sentir de forma bem marcada contrapõem-se cenas que pura e simplesmente não resultam bem, não conseguindo mexer com o espectador como deviam. Talvez ainda mais grave, o espectador sai do filme com uma vaga sensação que tudo o que assistiu foi um tanto ou quanto "pointless", com a sensação de que falta um significado mais profundo. Mas... não será essa mesma a experiência que se pretendia retratar, a própria experiência de Anthony Swofford?
7/10